NCAA rules on Devonaire Clarington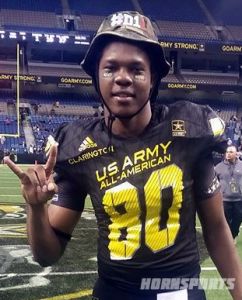 Devonaire Clarington signed his National Letter of Intent with the Longhorns on February 4, 2015. More than 6 months later, the Army All-American 4-star tight end from Miami, Florida was still waiting on a ruling by the NCAA to clear him for matriculation to the University of Texas.
Clarington did not receive the news he hoped for on Wednesday when the NCAA ruling on his eligibility was handed down.
— Twitter API (@twitterapi) November 7, 2011
The likelihood of Clarington enrolling and playing with the Longhorns this season is slim, as testing dates for the ACT don't begin until after the University's Fall semester begins.