Longhorns & Aggies to meet on hardwood in Battle4 Atlantis Tournament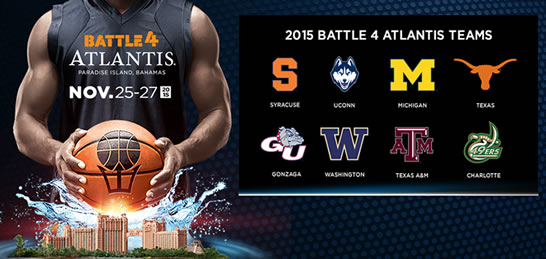 The Texas Longhorns and the Texas A&M Aggies will face one another on the basketball court this season as part of an 8-team tournament which will be held in Paradise Island, Bahamas on November 25-27. The two teams, which will meet in the first round of the tournament, haven't played one another since February 6, 2012 (the Longhorns beat the Aggies 70-68).
Texas holds an all-time advantage over Texas A&M in basketball games 137-85.
In addition to the Texas-Texas A&M pairing, additional first-round matchups include Gonzaga vs. Washington, Michigan vs. UCONN and Charlotte vs. Syracuse.
Shaka Smart and the Longhorns will open the 2015-2016 season against the Washington Huskies in Shanghai, China on November 13th.