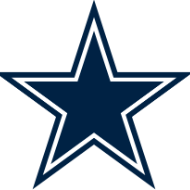 About This Club
A club for those that love the star
What's new in this club

I sure hope Dallas can keep this game close. I got really tired of ESPN hyping the Cowboys and then turning around and pushing the idea that Tampa will destroy the Boys. I really hope Greenberg has to eat his words.

NFC East is still wide open. Dalton looked pretty solid last week. Need to keep cranking out wins....

My pleasure! I think it's dope!

That's my thought as well. But he needs to get his act together and play like the veteran he is! Thanks for indulging on this group.... we're trying some things out. Allowing folks to starts their own groups that are closed, open, etc.. since the open board is basically one big category.

I really think Gilbert earned it tbh. But with the money they're paying Dalton I'm sure he gets to keep #2

I was impressed with Garrett Gilbert last weekend against Pittsburgh. His performance was at least good enough to start the conversation about who is the #2 guy on the depth chart (behind the injured Prescott). Most likely Dalton will return as the starter next weekend against Minnesota, but Gilbert held his own.