If Swoopes and Heard are close at the beginning of the season, then I hope both QBs play till one wins the job.
Texas QBs might not be memorable, but Strong needs a big-name star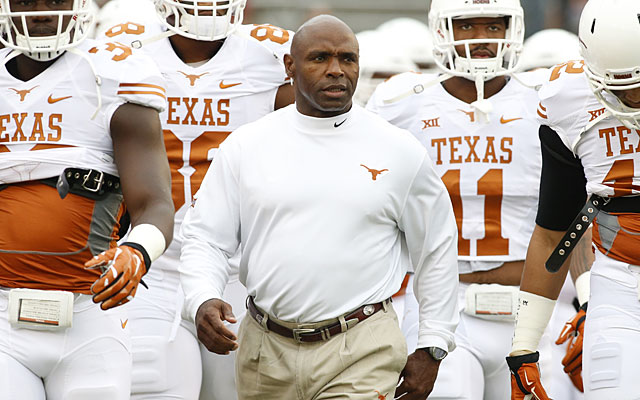 AUSTIN, Texas -- Charlie Strong is able to laugh now. A victim of your typical blogger troll, Texas' coach briefly languished -- embarrassingly -- in the news cycle.
In a court deposition reported by the Associated Press, Strong couldn't remember the name of his starting quarterback.
Never mind that the court stenographer in attendance spelled Tyrone Swoopes' name wrong (Swoops).
"What's my man's first name?" he said to himself in the March 11 deposition.
"I was like, 'Ty, Ty,'" Strong said this week smiling from the comfort of his office.
The coach -- after the brief stumble -- followed by naming other quarterbacks, including spelling out the last name of walk-on Logan V-i-n-k-l-a-r-e-k. Still, the episode was enough for King Internet to knock another powerful public figure off his perch.
That powerful figure didn't give much of a damn.
"The guy asked me my zip code. I didn't know my zip code. I don't even know my house address, I just know how to get there," Strong said.
The (memory) hits just kept on coming in the deposition regarding Oklahoma State's suit against Texas co-offensive coordinator Joe Wickline.
"It became a one-day story," Strong said.
That's part of the appeal of the Texas coach in his second season. He gets the job, the life, even the torment. All of it.
A troubling quarterback situation isn't entirely his doing. Not even close. Going into that second season, a regretful streak has been extended. No Longhorn quarterback has received a single vote for the Big 12 coaches' all-conference team since Colt McCoy in 2009. Not one.
And one vote gets you honorable mention.
That's something to forget.
At least this season there is a battle for the position. Swoopes, a rising junior, was forced to start last season when returning starter David Ash gave up the game due to concussion symptoms. It was not pretty for Swoopes, Strong and Texas most of the time.
In the quarterback-rich Big 12, only Oklahoma's Trevor Knight threw more interceptions. Only two other regulars were less accurate than Swoopes' 58.3 percent completion rate.
"We weren't very good up front so we couldn't protect him," Strong said. "We couldn't get the run game established. You lose your confidence and that's what you're hoping with him. Can he rebound from losing his confidence?"
There are layers to that statement. Ash's injury followed a purging of at least 11 players -- nine dismissals, two suspensions -- by Strong for misconduct. ("One day passing by the TV and they said, 'There goes No. 8.' I said, 'Oh Lord, somebody's counting it,'" the coach said.)
School-administered blood tests reportedly increased. The same thing had happened when Strong was at Louisville.
In the end, both offensive tackles were new. Marcus Hutchins switched from defensive line to offensive tackle during two-a-days. Taylor Doyle snapped the ball for the first time in his career in the Oklahoma game.
Clearly, Strong isn't going to sacrifice character for wins. For that reason, it's not surprising he's a Mariota guy over Jameis. He believes if they act up in college, they're going to act up in the pros. Strong has staked his career on having the best guys, not necessarily the best players.
"Their behavior was at a point where they felt like they didn't have to listen to anyone," Strong said of his first Texas team. "You're not dealing with that as much because now they understand.
"People think I came in here to run everybody off. Not at all. As a coaching staff our job is not to run young men off. We want to develop. Make sure you're there to help them build their career."
The approach served him well at Louisville, where Strong went 37-15 in four seasons. It forged his philosophy as one of the most respected assistants in the game at Florida, South Carolina and Notre Dame.
But that debut with Texas marked his worst season as a head coach (6-7). The quarterback frustration showed itself in the bowl game against Arkansas. Texas fell behind early 10-0 in an eventual 31-7 loss and Strong already had enough.
He got up into Swoopes' face during a stoppage. No lip readers were needed.
"It was more or less like, 'Let's get going. ... Where you at?' Strong said. "Let's get focused and let's get locked into the game."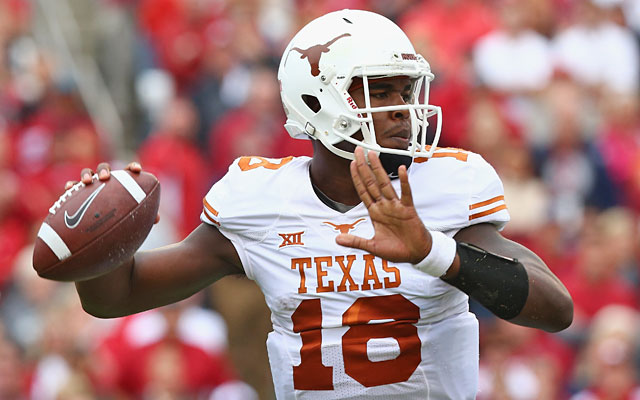 It remains amazing that McCoy is the last Texas quarterback of substance. In a state filled with difference-makers under center, Texas has hit an incredible drought.
Robert Griffin III was evaluated as a defensive back. Johnny Manziel wasn't a fit because of character issues. They both won Heismans. TCU's Trevone Boykin -- from West Mesquite High -- is a top Heisman candidate going into 2015. Ohio State's J.T. Barrett -- from Wichita Falls -- was fifth in Heisman voting last season.
Even Garrett Gilbert -- one of the best Texas schoolboy quarterbacks in history -- bombed out only to finish up with a fine career at SMU. He ended up with the Patriots and a Super Bowl ring.
In recruiting, Jim Harbaugh beat out Strong this year, flipping four-star prospect Zach Gentry. Strong's prize in his second recruiting class was Kai Locksley, a 6-foot-4, 190-pound star from Baltimore.
"You're going to get guys," Strong promised. "It's going to happen. You have to have success. When they see off what you're doing, they're all going to be a part of it."
Meanwhile, Strong has been brutally honest. He can't believe the blowback he suffered last season when he suggested his team wasn't ready to win a national championship.
"Did you see our spring game?" he asked. "Seriously."
Competition for the starting job comes from celebrated redshirt freshman Jerrod Heard, seeing his first action. Strong hasn't ruled out playing two guys.
Whatever the situation, the coach has faith the position is going to be fixed.
"I hope it's a faith ...," he said. "You feel more comfortable. I kind of have a feel for the team. Last year I was trying to get to know the team. I really didn't know them that well, didn't know them as well as I thought I did. Now just being around them, they know the expectations."
That Strong has to codify those expectations is a sign of the modern times. Among his tenets: No guns, attend class, treat women with respect.
"It wasn't a change of culture where I had to walk in ... and fix so much," he said. "It doesn't matter who was sitting here, at some point players are going to make a decision to do things their way."
If they win at the same time, well, that's important too at Texas.
Don't forget it.
http://www.cbssports...a-big-name-star