Latest from Burnt Orange Board
Tom Herman's Strategy Changing Texas Recruiting
Submitted 28 January 2017 - 10:40 AM in
Texas Longhorns Football
|
Comments: 0
by Will Baizer
As coaches change, they bring their own twist to the recruiting game, one that fans and media alike must get used to. To give some perspective on these changes, we'll look at how the Texas program has progressively changed philosophies in order to keep up with the national trend in recruiting.
When Mack Brown took the reins in Austin in 2008 he rarely offered out-of-state players and wanted his offers to carry a weight of exclusivity. During Brown's career, he was usually able to pick and choose the recruits he wanted and took a ton of pride in being able to say he offered 25 guys and 24 of them signed with the Longhorns. He'd offer guys very early and wouldn't recruit them if they didn't have Texas in their top two teams. But near the end of his career at Texas, Brown couldn't land the guys with the frequency he was used to, which resulted in highly rated recruits riding out the cycle until signing day.
Enter Charlie Strong… Texas recruiting was flipped on its head. As most fans know, Charlie was a closer. He wouldn't dole out a lot of offers early in the game, but later in the cycle he'd start to really hit home and close strong. Charlie was a master of persuasion due to his track record of being a good person with outstanding character. He could earn the trust of parents and recruits in an in-home visit or two. Charlie Strong also extended beyond the border. While it did rub some of the Texas traditionalists the wrong way, it ultimately netted him two top 10 classes which included guys like Malcolm Roach, Collin Johnson, D'Andre Christmas Giles, John Burt, Gerald Wilbon, and Michael Dickson.
Now let's take a look at the Tom Herman approach to recruiting. If you follow recruiting and think Herman is doling out a lot of scholarship offers, then you are certainly on to something.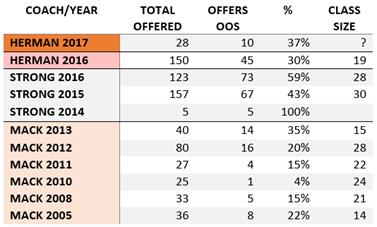 The new Texas head coach is not afraid to cast a wide net, and Longhorn fans found this out in a hurry. In just his second day on the job 4 players including a Junior and a Sophomore were extended offers (rare under Charlie). So far, he's offered 27 for 2017, 35 for 2018, and 6 for 2019, and he's been on the job for just a little over 2 months.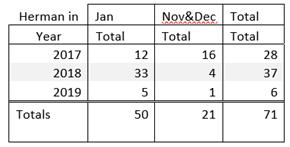 Now, coming out of the dead period, Longhorn fans are seeing it more than ever, as it seems a new player or two are offered every day. Technically, it's true because since Herman became the head coach Texas is giving out an average of 1.1 offers per day. And in the time subsequent to Herman's assembling of a complete staff, that rate has almost doubled to 1.9 per day. In January alone Herman has thus far sent out 50 offers.
However, the thing that is more interesting than the number of offers is where those offers are going.
These numbers referenced in the chart above were unheard of at Texas, even under Charlie Strong, whose background was in recruiting the state of Florida. 62% of Herman's offers have been doled out to out-of-state-prospects. 31 out-of-state offers in a matter of just 27 days, to be precise. While I highly doubt this trend of out of-state offering will extend in a linear manner, Herman is still well on his way offering the most out-of-state kids in the history of Texas football.
On a larger level, the game of recruiting has changed dramatically over the past few decades. HUDL and Twitter have increased access to recruits, strategies have been advanced and recruiting has become more of a national spectacle than ever before.
The number of offers considered normal, or average, is increasing. When Nick Saban started off at LSU the most offers he ever gave out was 57. When he started at Alabama he sent out somewhere around 80-90 offers. In the cycles of 2017 and 2016 Saban has sent out a whopping 266 scholarship offers. Saban isn't the only one. Coaches like Urban Meyer, Bob Stoops, and Dabo Sweeney have started offering almost double what they began offering in their careers.
Coaches are starting to extend beyond their traditional recruiting areas. Coaches like Bob Stoops and Kevin Sumlin have begun to look nationally more often than not.
Things have changed at Texas and in the game of recruiting. Tom Herman likes to be on the cutting-edge of everything, whether that be strength and conditioning, facilities, or nutrition. Expect his recruiting strategy to be equally progressive as well.
Buckle up.