Latest from Burnt Orange Board
Shane Buechele talks Texas
Submitted 06 October 2015 - 10:35 AM in
Texas Longhorns Football
|
Comments: 0
by Mike Roach
In a state where the high school football talent is plentiful, it's a rarity to see a Friday night matchup in which both teams feature players that have made a commitment to play for the same college or university. On Friday, Texas offensive line commit Tope Imade stood on the sideline and watched his future quarterback, Shane Buechele, lead Arlington Lamar to a win over his Arlington Bowie Vols. Both players performed as advertised on Friday, with Imade paving the way for over three hundred yards rushing, while Buechele tossed three touchdowns on his way to a 30-23 victory.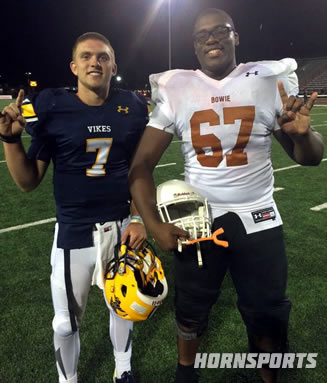 Both Buechele and Imade took time to talk with one another after the game and posed for a few pictures together. As high school seniors, this is the last time they will see each other on opposing sidelines. Buechele, for one, is glad.
"It's pretty awesome seeing a guy who I'm going to be playing with play against us right now,"
Buechele said.
"He's a dog down there man and he can get it done. I was excited to be playing against him, but I'm glad I won't play against him anymore, because now he's going to be on my team."
After Charlie Strong replaced Shawn Watson with Jay Norvell early on in the year, many fans wondered if it would affect Buechele's commitment. Fortunately, the versatile passer sees himself as a fit in a number of offenses.
"Jay Norvell is a great mind and he's going to draw up nice plays and do everything right."
In fact, Buechele has noticed the change in the offense and the bright spots Jerrod Heard was able to bring to the table in his first few starts.
"It's great to see it, not only for the quarterback position but for the whole team,"
said Buechele.
"Jerrod is doing a great job running the ball and throwing the ball. He can throw it vertically and spread it out, so it's definitely exciting to see them succeed and score a lot of points and I can't wait to get back down there."
As a quarterback Buechele is the leader on the field, but he's also extended that leadership to the recruiting front in an effort to help Texas land a top class this year. Unlike most recruits, Buechele keeps a low profile on twitter and other social media sites, but he is hard at work behind the scenes.
"I try to keep it on the down low on what I'm doing,"
Buechele told us with a smile.
"I'm definitely trying to go get other offensive linemen. I communicate with Jean Delance and Pat Hudson, so it's not just about football it's about the other stuff like life and school and all that. I also talk with other guys like Devwah Whaley and Deontay Anderson, so I'm just trying to get out there and help make this recruiting class great."
As an active leader of this class, it would be devastating if Buechele were to look around at other options following the failure of the Longhorns on the field. Texas fans need not worry, because he's not even listening to other schools at this point.
"No sir,"
Buechele said when asked if he was hearing from other schools.
"I'm straight Longhorns."