Latest from Burnt Orange Board
Elite 11 Wrap Up
Submitted 04 May 2014 - 05:35 PM in
Recruiting
|
Comments: 0
by Mike Roach
Coleman Feeley and I were out to cover the Dallas Elite 11 camp today and came away with some great notes. We mostly focused on top names, and those players on the Texas recruiting radar. We will have some write ups coming out later, but I wanted to drop some quick notes for you.
Texas Tech commit Jarrett Stidham (Stephenville, TX) was named the camp MVP. Stidham has a bit of a long "slinging" release, but showed great poise and accuracy along with a good attitude. He showed the ability to make all of the throws, and shined in the 2 minute drill at the end of the camp.
Allen quarterback Kylar Murray has some great tools to work with and had a strong day as well. He looked great on all of his drops and has very good arm strength. His "fastball" that he throws on outs and slants was as good as any on display today, and he shows nice touch on his deep ball. I approached Murray after the camp and he said that many of the rumors out there are inaccurate. I asked him if he had a decision date coming up and he replied, "No that's not true". I asked Murray who his leaders were and he replied, "I don't have any". I also asked Murray if he had heard from Texas lately and he said, "Yes, but that's not going to happen".
Wynne (AR) quarterback Ross Trail had a nice showing today. In the drills I saw him compete in he showed good intermediate arm strength and mobility. His accuracy, timing, and decision making were good as well. Many of the coaches and media in attendance were surprised with the performance he had.
Boerne (TX) quarterback Quentin Dormady had a bit of an up and down day. He jumps out right away as a kid with an impressive frame and arm strength. He's coming off of a rotator cuff injury and showed a few signs of rust with his accuracy, but battled through to make some very crisp throws. We caught up with ESPN's Trent Dilfer who oversees the camp and got his opinion on Dormady and a couple of other players at the camp. When asked about Dormady, Dilfer was honest with his evaluation and included Norman (OK) quarterback John Kolar in as well. "I thought he was good, I think the year off obviously showed. This is an environment you have to find a comfort zone with, and I didn't think they were very comfortable." Dilfer went on, "I thought Dormady fought through it a little better, I think John (Kolar) it got a little big for him".
Southlake Carroll's Ryan Agnew is a player who has been on the Texas radar. He showed up to a junior day in February and also had his up and down moments today. Agnew carries himself with a low key body language that could almost be considered as a lack of confidence. Agnew cleared up any questions about his confidence once the route drills started. Agnew's top end arm strength isn't as strong as you'd like it to be, but his short and intermediate throws are crisp and accurate. Coleman caught up with him after the camp so he'll have some notes from his interview. When asked about Agnew, Dilfer said, "Good player, again I think that he didn't have his best day but he's a good player".
2016 Lake Stevens (WA) quarterback Jacob Eason attracted a crowd to watch him throw. Eason is already being mentioned as one of the top 2016 quarterbacks in the nation and holds offers from Georgia, Florida State, and Miami just looks the part. The sophomore is a big kid at 6'4 with a strong arm, quick release, and a beautiful spiral. He struggled a bit throwing on the run and tended to short his receivers on the rollout. Eason carried himself with a very quiet confidence and was a leader vocally in his drills. He approached each rep with a very business like approach. Before competing in the Elite 11 Camp, he took a visit to Austin and really liked what he saw. We will have an interview with Eason later, but he did have some great things to say about the program and showed a legitimate interest. When Dilfer was asked about Eason he beamed, "He's a stud, I mean there were a lot of good '16 kids here, and I don't start personally looking at '16's until after the Elite 11 is over, my coaches were raving about him and four or five others."
The surprise of the day for me was was 2016 West Orange Stark quarterback Dillon Sterling-Cole. Cole didn't do anything amazing, but he showed that the day wasn't too big for him and was amazingly consistent throughout. He will be another one to watch next season. 8th grade LSU commit Zadock Dinkleman fit in with the crowd well. He blended with a crowd of sophomores and juniors well, but struggled in some of the drills. There is a lot to build on with Dinkleman though.
Just one more note on Dilfer, it's a real pleasure to see him in these camp settings. He's heavily involved in coaching and advice and well acquainted with most of the quarterbacks in attendance. After the camp broke down he was found coaching a group of ten year olds at the middle of the field. When asked to assess the talent level collected in this region Dilfer said, "It's strong, I mean Texas is always strong. Theres a hundred kid that can play quarterback. This year it's a little top heavy, but the talent at the top is as good as it gets".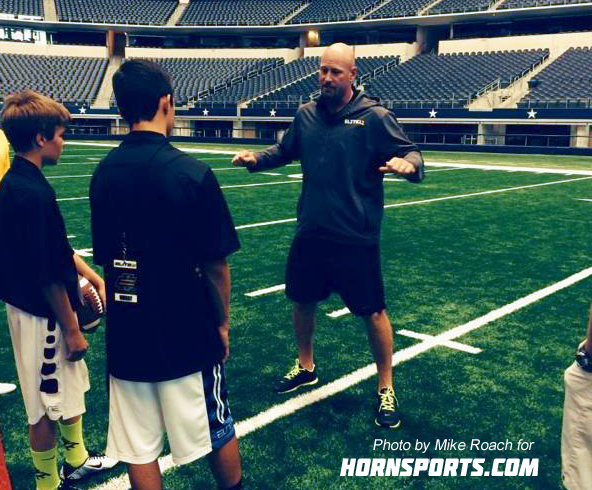 Stay tuned for our interview with Jacob Eason and Coleman's coverage of the event as well.
J.B. TexasEx, Darrell McPhaul, killrjoe and 1 other like this