Latest from Burnt Orange Board
The Longhorn Heard
Submitted 17 May 2014 - 12:27 PM in
Premium
|
Comments: 6
by Coleman Feeley
Considering all factors – the unlikelihood that USC quarterback Max Wittek will be coming to UT; the starting quarterback is recovering from surgery; the second string QB hasn't earned the fans' loyalty; and the last option is a true freshman (albeit an All American one), the quarterback situation at Texas will be interesting to say the least. With David Ash under constant scrutiny due to his injuries and Tyrone Swoopes still struggling to find consistency in the Longhorn offense, the quarterback position at Texas appears to truly be wide open.
On most college football teams, incoming freshman redshirt, meaning that they sit out one year of competition to gain another year of eligibility in the future; however, first year head coaches sometimes like to make a statement by playing younger athletes. Starting a true freshman doesn't always pay off in the short term but what it essentially does is guarantee an experienced player by the coach's third year. Not uncoincidentally, that third year is usually just about the time when the unofficial grace period for rebuilding has expired (of course that's considering Longhorn Nation is patient enough). It wouldn't be surprising to see this very situation play out for the Longhorns.
Given the fact that great players always want to play, it's a good bet Jerrod Heard will be stepping onto the Forty Acres this fall with the intention of starting at quarterback for the Texas Longhorns. While he's never said so, instead favoring platitudes about helping the team win, under current circumstances, Head Coach Charlie Strong might need Heard to be thinking as much.
Heard, from John Guyer High School in Denton, Texas, is 6'2.5'' tall and weighs in at a lean 200lbs. He runs a 4.5 40-yard dash, a 4.4 pro shuttle, has a 34'' vertical, and throws the SPARQ Power Toss 39 feet (just three feet short of four-star offensive line recruit Patrick Vahe) – "athletic" is an understatement when describing the signal caller. However, for dual-threat quarterbacks, it's not surprising to see impressive stats on par with Heard's. Vince Young ran a 4.5 40-yard dash, and perhaps the most prolific dual-threat QB of all time, Michael Vick, ran a 4.3. What sets Heard apart is his ability to produce those levels of combine measurements, but then also to have the throwing arm to match most traditional, drop back quarterbacks.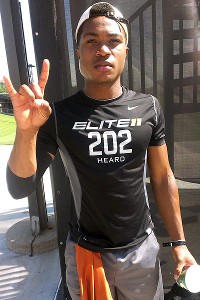 photo credit: espn.com
Jerrod Heard's high school career began when he was tabbed as the starting quarterback for the Guyer Varsity squad as a sophomore. In each of his three seasons as a starter, Heard threw for over 2000 yards - which is especially difficult to do on a team that greatly values the run game.
Heard has a high, quick release which is often times not associated with dual-threat quarterbacks. Not only does Heard possess the ability to keep his textbook throwing motion while standing strong in the pocket, but he does the same while on the run.
In his film
, Heard shows great touch in throwing the ball downfield confidently and accurately, but also makes smart calculated decisions. Heard scans the field, looking at what the defense is doing and who will be open because of it. With his solid pre-snap reads, he doesn't force passes or just throw it deep to a wide receiver that is much faster than his defensive counterpart.
Quarterbacks often hear things like, "anyone could hit a receiver that open" but what casual fans fail to realize is that the quarterback must first find that open receiver before throwing the pass. Often interceptions are thrown because of forced passes, incorrect pre-snap reads, or, worse yet, a decision about who to throw to before the play even develops. This is not the case with Heard, who shows an incredible ability to lead his receivers and "throw them open". Heard's touch and accuracy allowed the Denton Guyer offense to stretch opposing defenses and make them cover deeper downfield. This ability to accurately control a vertical passing game also makes his running ability even more effective.
Heard's senior season ended with him totaling 4,297 yards with 49 touchdowns (2,136 passing for 22 touchdowns, and 2,161 rushing for 27 touchdowns). Heard completed 144/232 attempts for 62% completion percentage, with an average per completion of 14 yards.
On the ground, Heard's 2,161 yards came on 256 attempts, an 8.5 yard per carry average. When Heard runs the ball, he runs with a style very familiar to Longhorn fans – his stride is long and powerful with smooth cuts that never force him to lose speed. If you were to play his highlights starting after the ball is snapped, you may think you were looking at a kick return… Sound familiar?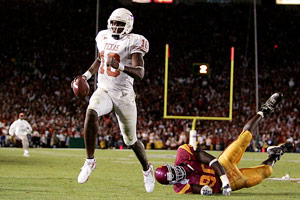 photo credit: espn.com
Just like that familiar legend of UT football, Jerrod Heard shines brighter when the stage is biggest. In the 4-A state championship game, John Guyer High School matched up against the Northside Brennan Bears. Northside was undefeated entering the final game of the season and was fully prepared to walk away with the State Championship title. The Bears defense was dominant all season, only giving up an astounding 3.4 points per game – an average aided by nine shut outs. Heard led the Guyer Wildcats to a decisive 31-14 victory over the Bears, scoring three of the Wildcats' four touchdowns and accounting for 81% of the total offense. Rushing for 159 yards and two touchdowns, Heard was the leading rusher in the game on either team, and went nine for nine passing with 95 yards and a touchdown.
Jerrod Heard's athleticism and talent combine to give him all the tools he needs to become a great quarterback, but perhaps his most valuable quality is his commitment to becoming great. Heard shows a maturity that is uncommon among eighteen year high school seniors…spring break is usually a time to blow off steam and make one of the first beach trips of the season; but Heard spent it at quarterback camp.
Working with quarterback guru George Whitfield, who has worked with some of the NFL's best quarterbacks including Donovan McNabb, Cam Newton, Andrew Luck, and Ben Roethlisberger, Heard spent his senior spring break improving as a football player. George Whitfield noted the youngster as having a "zero flinch mentality", further describing this mentality as being essential for quarterbacks because of the quick decisions they have to make. "He's awfully mature for his age… always asking questions."
I, personally, will be very excited to see this young man's progression through the ranks at Texas and will be thrilled to see him in his first game. It's hard to spot superstars early and impossible to determine the future for anyone but, with all the tools and support that Heard has, I wouldn't be surprised to see him reach the highest levels of competition and win.
Aaron Carrara, J.B. TexasEx, bcherry168 and 2 others like this