Latest from Burnt Orange Board
Depth Chart Debate: Adams vs. Cotcher
Submitted 03 April 2014 - 03:09 PM in
Premium
|
Comments: 5
by Matt Cotcher
@mlcotcher
The second string quarterback is one of the most popular people in Austin. Typically, he can't do wrong, is more talented than the starter, and equates to at least one more win in November. In Charlie Strong's first season, that may or may not be the case, depending on whether or not he's able to lure USC-transfer Max Wittek to campus. If Wittek takes his talents elsewhere, superblue Jerrod Heard will be the fan darling.
Should fans really be putting such hope on a pair of signal callers that aren't even on the roster? Are you sure?
Be sure to tell us what you think.
Texas really needs Max Wittek -
Sean Adams
General Robert Neyland, namesake of the stadium at the University of Tennessee, famously said, "80% of football games are won by the coach with the best players on his sideline." Neyland knew a thing or two about football, and his quote is answer enough as to why the University of Texas needs the commitment of USC transfer Max Wittek.
photo credit: SI.com
Wittek was a December 2010 graduate from Mater Dei High School (same high school as for USC and NFL QB's Matt Leinart and Matt Barkley), the 3rd ranked pro style quarterback in the nation, and a national Top 100 player. He committed to the Trojans after receiving dozens of scholarship offers including Florida, Florida State, Georgia, Notre Dame and Nebraska. He was recruited at Nebraska by their OC Shawn Watson, now the QB coach and play caller for the Longhorns.
Now, that all of the official crap is out of the way, let's talk about what matters…Max Wittek would be highest prospect to join the Horns since Garrett Gilbert did so (2009). Obviously rankings do not mean that much but Wittek is a huge talent and has two years of eligibility remaining.
Not to mention that Texas needs Wittek because there are more questions than answers at the quarterback position. I believe that the handling of David Ash and his injury in 2013 has a lot of questions around it. Texas fans might be more worried than David Ash, his family or the new Texas staff is about his health. But, there is still the lingering question. Tyrone Swoopes was put in an awkward situation burning his redshirt last year and the time he spent on the field was meager at best. Rockstar recruit Jerrod Heard hits the 40 acres in June but he will be a freshman.
Yes, Texas needs Max Wittek. He will bring work ethic, championship pedigree, some experience and a very talented arm to the QB room.
The rush to judge Tyrone Swoopes -
Matt Cotcher
I admit it...I'm at a loss for how or why fans have already discarded Tyrone Swoopes on the scrap heap. That sounds hyperbolic, and normally it would be, but it's not in this case.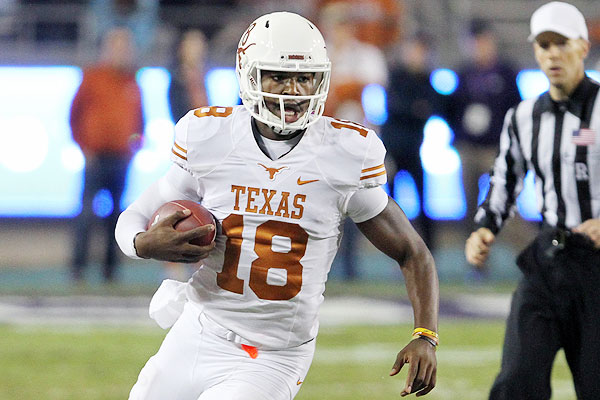 photo credit: espn.com
In a few months, Jerrod Heard will join the Longhorns as the latest, greatest recruit wearing the mantle of "the next Vince Young". 12 short months ago, that recruit was Tyrone Swoopes. Arriving in Austin in time for Spring practice (2013), the only thing more ridiculous than the 6'4", 240-pound playmaker's scholarship offer list was his highlight tape.
Fast forward a few months and the Texas coaches decided to burn Swoopes' redshirt 7 games into the 2013 season. Over the final 6 games of the season, the freshman appeared in 5 games. Swoopes also played in a few series in the Alamo Bowl.
In those 6 career appearances, the former Whitewright star had a total of 13 pass attempts and 20 rushes...and fans have already passed judgment on him. Burnt orange savants decided that Swoopes can't win games and that Texas must get Max Wittek on campus or be prepared to have Heard be the 2nd string quarterback.
Nevermind that Swoopes had a 26 yard run against Oregon in the Alamo Bowl. Forget that he threw a perfect 54-yard strike to Mike Davis that might have completely changed the game had Davis not dropped it. The fact that both of those singular plays exceed the starters total for the entire game? Irrelevant.
If you want to remember why everyone was so excited to get Tyrone Swoopes to the 40 Acres, give
this SI article
a read. Pay particular attention to recruiting analyst Brian Perroni's comment that, "…he is not nearly the polished product that most quarterbacks are coming out of high school these days. He doesn't have the private coach or come from a high-powered system so he is going to have to develop a lot when he gets to Texas."
And if that article isn't enough to remind you, here is every play from Swoopes' 2013 campaign including all the incomplete passes. Sit through 7 minutes of footage, then come back and tell me why Texas needs Max Wittek.